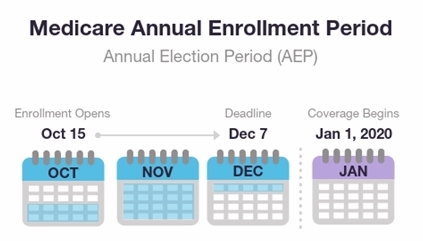 Are you ready for Medicare Open Enrollment 2020? Medicare Open Enrollment starts October 15th and runs until December 7th. While that seems like plenty of time it's less than two months.

The annual Medicare Open Enrollment period begins on October 15th and continues through December 7th. During the Annual Enrollment Period (AEP) you can make changes to various aspects of your coverage. Every year, those with Medicare get to explore new choices and pick the plans that work best for them. During the annual enrollment period (AEP) you can make changes to various aspects of your coverage. You can switch from Original Medicare to Medicare Advantage, or vice versa.

Medicare is the federal health insurance program for people who are 65 or older, certain younger people with disabilities and people with End-Stage Renal Disease (permanent kidney failure requiring dialysis or a transplant, sometimes called ESRD).

Different parts of Medicare help cover specific services:

MEDICARE PART A (Hospital Insurance):
Part A covers inpatient hospital stays, care in a skilled nursing facility, hospice care and some home health care.

MEDICARE PART B (Medical Insurance):
Part B covers certain doctor's services, outpatient care, medical supplies, and preventive services.

MEDICARE PART C (Medicare Advantage Plans – HMO or PPO):
A type of Medicare health plan offered by a private company that contracts with Medicare to provide you with all your Part A and Part B benefits. They include Health Maintenance Organizations, Preferred Provider Organizations, Private Fee-for-Service Plans, Special Needs Plans, and Medicare Medical Savings Account Plans.
If you are enrolled in a Medicare Advantage Plan, most Medicare services are covered through the plan and are not paid for under Original Medicare.
Most Medicare Advantage Plans offer prescription drug coverage.
People who option to stay enrolled in a Part C Medicare Advantage Plan for their basic health care services have the option to stay in that plan, choose a different plan or going back to the Original Medicare program. Plans change from year to year, so review and see if your health has changed, as these are important choices that should be made with care. 2019 Texas Medicare Part D Prescription Drug Plan Highlights

Not sure what kind of coverage you have? Here are some ways to find out:
Check your red, white and blue Medicare card. Check all other insurance cards that you use. Call the phone number on the cards to get more information about the coverage. Check your Medicare health or drug plan enrollment. Call Medicare at 1-800-633-4227. TTY users call 1-877-486-2048.  For additional information: https://www.medicareresources.org